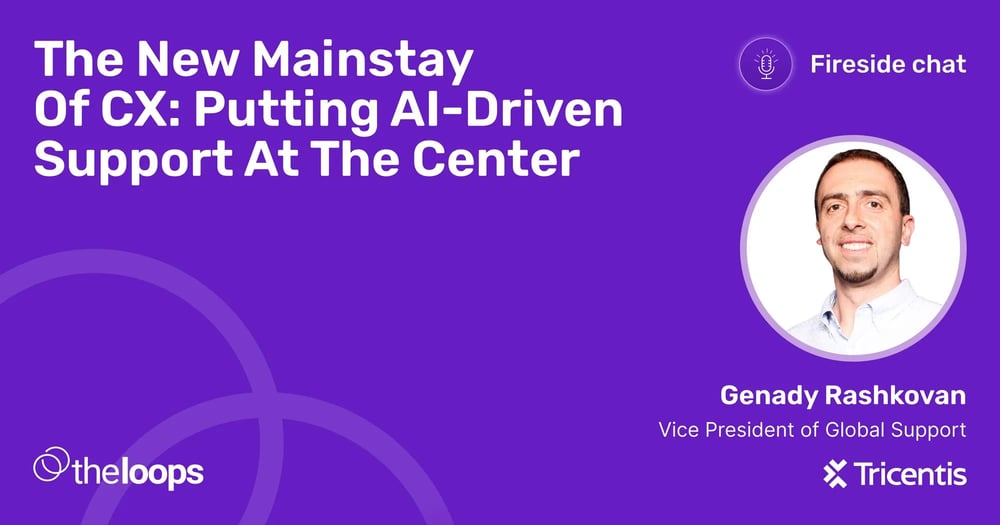 Wednesday October 4th | 9:00 am PST
AI is disrupting a lot of tried and true practices in tech.
One of which is undervaluing Support's impact on business outcomes.
When we say, "Putting Support at the Center," we mean that customer support is more than just a service department. Support is a strategic partner that collaborates closely with Success, Product, and Engineering teams.
A Real-World CX Transformation
One professional who's turning this vision into reality is Genady (Gene) Rashkovan, Vice President of Support at Tricentis.
After 20 years in Support, Genady is leading the charge within Tricentis and harnessing the power of AI to accelerate access to support insights across his organization. That's why we invited him to join our CO-Founder & CEO, Somya Kapoor, to discuss whats possible for other CX orgs.
During our Fireside Chat on Wednesday, October 4th at 9:00 am PST, Genady will share:
How to Shift from Reactive to Strategic Support:




Discover the steps needed to transition your support function from a reactive role to a strategic one, particularly in collaboration with Success and cross-functional teams.




AI's Role in Facilitating this Transformation:


Learn how AI technologies make it easy to embrace and implement support's strategic focus at the center.




Making Metrics Matter:


Replace SLA breaches with smarter, intelligent metrics.




The Urgency of This Shift:


Find out why this shift needs to happen now to ensure your business stays competitive and customer-centric.